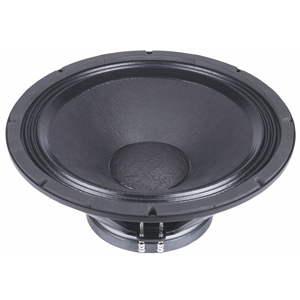 AM Series
AM-18ELF
P-Audio AM-18ELF 600W 18 Inch Low Frequency Driver with 3 Inch Voice Coil

Click here to download the Datasheet (PDF)
The AM Series features an 18 inch (460mm) diameter loudspeaker designed for extended deep bass and sub woofer applications. The design parameters of the AM-18ELF produce a transducer with a rated bandwidth of 30Hz to 100Hz. Extended voice coil winding length , lower free air resonance and a suspension system capable of increased displacement produce a loudspeaker capable of clean and tight response down to 30Hz.

The AM-18ELF utilizes a Ferrite based permanent magnetic design and a medium format 3 inch (76.2mm) voice coil to generate an efficiency bandwidth product that provides a perfect combination of low frequency extension and acoustic output. The AM-18ELF is ideal for sub bass effects and for any application where ultra low frequency response is specified.

The AM-18ELF offers all of the power handling and system reliability required for both portable ultra low frequency effects as well as for installed systems such as dance clubs.Deep sub bass response requires transducers designed for this specific application. The AM-18ELF has been optimized for very low frequency operation through the use of advanced computer based design and modeling software.