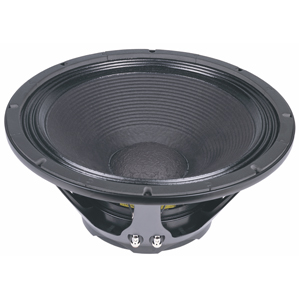 Challenger Series II
C-18LF
P-Audio C-18LF 800W 18 Inch Low Frequency Driver with 4 Inch Voice Coil

Click here to download the Datasheet (PDF)
The Challenger Series II C-18LF has been designed to provide very high acoustic output from 40Hz to 120Hz. This 18 inch (476mm) diameter woofer has an optimized efficiency/bandwidth product that provided maximum efficiency with standard sound reinforcement frequency range requirements for subwoofer applications. It is typical to band limit large format touring systems and permanent installation public address systems to prevent the input of damaging ultra low frequency material. Because this low frequency protection is generally set to the range of 40Hz the C-18LF has been optimized to provide maximum output in the typical operating range. The large diameter voice coil design features a 4 inch (101.6mm) voice coil diameter and large cross sectional area coil for maximum heat dissipation. The C-18LF alsofeatures an aluminum based edge wound voice coil construction.

The C-18LF is a Ferrite magnetics based design that also features a rugged aluminum die cast chassis.The mechanical suspension system has been optimized for high linear displacement within the rated operating range and input power rating of the transducer.

This high efficiency design will produce high impact bass performance and is well suited for touring sound applications and permanent installation systems where live music is the dominant input signal.