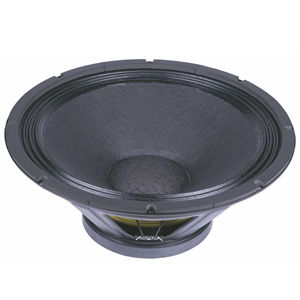 E Series
E-18LF
P-Audio E-18LF 800W 18 Inch Low Frequency Driver with 4 Inch Voice Coil

Click here to download the Datasheet (PDF)
The P Audio E Series II represents a new dimension in loudspeaker performance and value. The dream of high acoustic output and high performance can be realized through innovative engineering and manufacturing methods. The E-18LF is an 18 inch (460mm) diameter low frequency sub woofer that features very high power handling and reliability. The E-18LF uses a rigid stamped steel chassis mated to a large format Ferrite based permanent magnetic system. The operating bandwidth of 40Hz to 125Hz makes this loudspeaker ideal for portable sound reinforcement and installed public address systems where high impact bass and sub bass are specified.

The large format 4 inch (101.6mm) diameter voice coil design provides both high power handling and high reliability for high input program material. The high conductivity copper wire is coupled to the narrow magnetic gap magnet structure to provide optimized performance parameters that combine both excellent bandwidth and excellent efficiency.

The E-18LF is designed for applications such as mobile DJ, dance club, medium format touring systems and general purpose sub woofers. If extended sub bass is specified P Audio also offers the E-18ELF with a rated bandwidth of 30Hz to 100Hz. Because efficiency bandwidth products require a relationship between efficiency and low frequency response the E-18LF offers superior 1 watt at 1 meter sensitivity as compared to the E-18ELF.