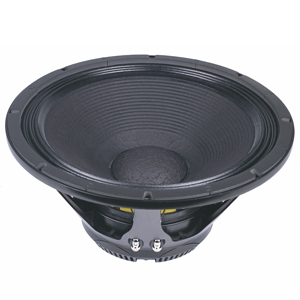 Flag Ship Series
FL-18LF
P-Audio FL-18LF 800W 18" Low Frequency Driver with 4 Inch Voice Coil

Click here to download the Datasheet (PDF)
The FL-18LF is an 18 inch diameter (476mm) low frequency transducer designed for very high acoustic output between 40Hz and 120Hz. Like all Flagship series products the FL-18LF features a very high energy product Neodymium based permanent magnet mounted to a rigid but light weight die cast aluminum alloy chassis. This combination makes the FL-18LF ideal for touring sound and portable low frequency public address systems. The light weight also makes this design excellent for flown and permanently suspended designs where load weight must be minimized.

The FL-18LF utilizes a large diameter 4 inch (101.6mm) voice coil design that will provide high reliability and reduced power compression. This large voice coil produces very high reliability and power handling and utilizes rectangular conductors in an edge wound configuration.

The FL-18LF is ideally suited for sub woofer applications where both low frequency response and efficiency are critical performance parameters. This design is an excellent combination of efficiency and low frequency bandwidth. Ideal applications include touring sub woofers, high impact portable sound subs, and permanently installed flown low frequency enclosures. Computer based parameter optimization techniques have produced a very flexible and light weight but powerful deep bass transducer.