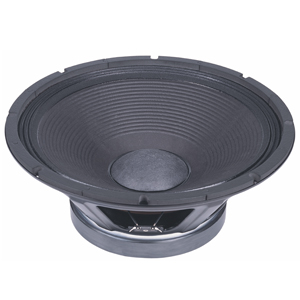 IMF Series II
IMF-15LF
P-Audio IMF-15LF 600W 15 Inch Low Frequency Driver with 3 Inch Voice Coil

Click here to download the Datasheet (PDF)
The IMF Series II offers a 15 inch (389mm) diameter transducer designed for use in two way portable sound reinforcement systems. The IMF-15LF is a Ferrite based permanent magnetic system design that features a 3 inch (76.2mm) voice coil diameter that provides both very high power handling and very high reliability. The rigid stamped steel chassis provides secure mounting and a high degree of mechanical support for the loudspeaker.

The IMF-15LF is designed with an operating bandwidth of 50Hz to1500Hz and has been optimized for use within this rated frequency range. This makes the device ideal for use as a woofer in modern two way systems where the high frequency response is provided by a professional level high acoustic output compression driver and horn combination. The IMF -15LF uses a newly developed cone material that provides improved mid range response in both the frequency domain and the time domain. This new material offers more vocal range clarity and intelligibility.

All IMF Series II loudspeakers are fully optimized designs that benefit from state of the art analysis and design tools. The reliability and consistency of the IMF-15LF is a direct result of P Audio's precise manufacturing methods and quality systems.