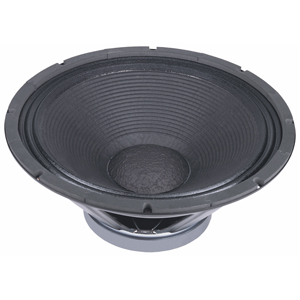 IMF Series II
IMF-18W
P-Audio IMF-18W 600W 18 Inch Low Frequency Driver with 3 Inch Voice Coil

Click here to download the Datasheet (PDF)
The IMF Series II features a wide range of transducers, each designed for specific applications. The IMF-18W is a high performance sub woofer designed for use in dance club systems, mobile DJ systems and portable sound reinforcement sub designs.

The IMF-18W is an 18 inch (460mm) diameter loudspeaker that features a rigid stamped steel chassis coupled to a large format Ferrite based permanent magnetic system.

The IMF-18W was designed to produce high impact sub bass response. The 3 inch diameter (76.2mm) voice coil design features high conductivity copper and very high thermal capacity adhesive systems to insure both high power handling and high reliability. The IMF-18W features an optimized voice coil geometry designed to support the high excursion requirements of modern high impact sub woofers.

Computer based modeling and analysis techniques have optimized the rated bandwidth of 30Hz to 125Hz. This rated bandwidth makes the IMF-18W ideal for reproducing the high impact acoustic response found in modern sound reinforcement systems.