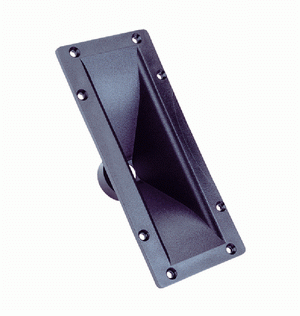 PH-2510
P-Audio PH-2510 1" Throat Screw On High Frequency Horn

Click here to download the Datasheet (PDF)
The PH-2510 is a diffraction style high frequency horn. The low profile height of 4.33 inches (112mm) makes the PH-2510 an excellent choice for applications where a short system height is desired or specified. The mouth dimensions of 4.33 inches (110mm) by 10.36 inches (259mm) provide a wide 100 degree horizontal coverage. The narrow mouth also provides a wide vertical coverage by acting as a diffraction slot. The vertical coverage of 80 degree makes the PH-2510 ideal for very wide dispersion applications and short throw.

The PH-2510 is a 1 inch (25.4mm) screw on type horn and is compatible with many P Audio PreNeo, BMD and PA series professional compression drivers. The horn construction is a high impact ABS material with glass filling to provide additional structural support for the compression driver. The PH-2510 may be used in two way systems where the low frequency component is a 10 inch, 12 inch or 15 inch loudspeaker. Good acoustic loading allow the horn to be used down to 1200Hz.

The PH-2510 may be used with the following P.audio professional compression drivers. ( or any industry standard compatible driver )

BM-D440S
BM-D450S
PreNeo-340S
PA-D25
PA-D26S
PA-D26SPN
PA-D38
PA-D415S
PA-DE34S

Nominal Coverage Angle ( H° X V°) - 6 dB. 100° x 80°
Cut Off Frequency ( Hz.) 780 Hz
Throat Diameter 25.4mm. (1\")
Mounting Type SCREW ON
Construction Injected Polymer A.B.S.with glass fiber filled Black Polycabonate

MOUNTING DIMENSIONS :

Rear Height : 65mm (2.56\")
Rear Width : 210mm (8.27\")

OVERALL DIMENSIONS :

Mount Height : 112mm (4.41\")
Mount Width : 260mm (10.24\")
Length : 82mm (3.23\")

BAFFLE CUTOUT DIMENSIONS :

Height : 75mm (2.95\")
Width : 220mm (8.66\")
Net Weight : 0.26kg (0.57 lbs)
Shipping Weight : 0.34kg (0.74 lbs)
Packing Dimension : 114mm x 263mm x 86mm / 4.48\" x 10.35\" x 3.38\"