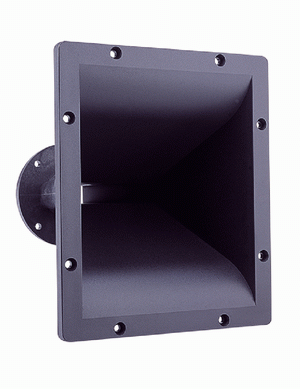 PH-2723
P-Audio PH-2723 2" Throat High Frequency Horn

Click here to download the Datasheet (PDF)
The PH-2723 is a large format throat high frequency horn. The 2 inch (50 mm) design is optimized for high pressure mid band response. The PH-2723 is compatible with a variety of P Audio PreNeo and BMD series professional compression drivers. The rated coverage angles of 60 degree horizontal by 40 degree vertical makes the horn an ideal choice for medium to long throw high output applications. Because the 2 inch throat diameter is an industry standard, the PH-2723 may be used with many competitive compression drivers as well.

The horn construction is a high impact ABS with glass filling to provide superior structural support for the compression driver. The PH-2723 is designed for use in high output professional sound reinforcement systems where long throw is specified. The horn is also ideal for applications where very specific acoustic coverage areas are specified. Excellent acoustic loading allows the horn to be used to below 1000Hz.

The PH-2723 may be used with the following P.audio professional compression drivers: BM-D750, PreNeo-750N (or any industry standard compatible driver).

Nominal Coverage Angle ( H° X V°): - 6 dB. 60° x 40°
Cut Off Frequency ( Hz.): 500 Hz
Throat Diameter: 50mm (2")
Mounting Type: BOLT ON
Construction: Injected Polymer A.B.S.with glass fiber filled Black Polycabonate

MOUNTING DIMENSIONS :

Rear Height : 196mm ( 7.71")
Rear Width : 207mm (8.14")

OVERALL DIMENSIONS :

Mount Height : 232mm (9.13")
Mount Width : 270mm (10.62")
Length : 249mm (9.80")

BAFFLE CUTOUT DIMENSIONS :

Height : 198mm (7.79")
Width : 210mm (8.26")
Net Weight : 0.92kg (2.02 lbs)
Shipping Weight : 1.41kg (3.10 lbs)
Packing Dimension : 290 mm x 252 mm x 300mm
11.41" x 9.92" x 11.81"