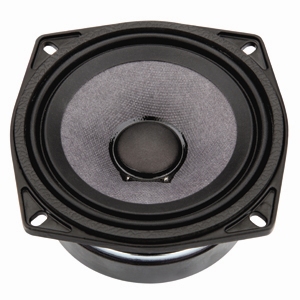 SN Series II
SN4-60F
P-Audio SN4-60F 60W 4.5" Loudpseaker Driver

Click here to download the Datasheet (PDF)
The P Audio SN4-60F is a full range high performance loudspeaker designed for use in ultra compact foreground and background sound reinforcement systems. The SN4-60F is a nominal 4.5 inch (115mm) diameter design that offers a full 240 watts of peak power handling capacity and 60 watts of continuous (AES) rated capacity. The combination of high sensitivity and very linear bandwidth offer superior system response when the SN4-60F is used as a full range device. These same characteristics make the SN4-60F a great choice for a mid range driver in multi-way system designs.

The SN4-60F features an optimized ferrite permanent magnetic system design coupled to a light weight die cast aluminum chassis. The die cast chassis features P Audio's under spider venting to insure linear air flow and excellent cooling.

The SN4-60F is an excellent full range device for compact meter bridge monitoring and is also well suited for applications in ultra compact designs for use in small pubs and retail outlets. The modified rubber surround offers good mechanical excursion capabilities.