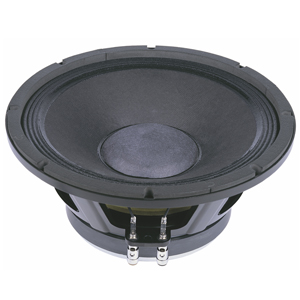 AM Series
AM-12LF
P-Audio AM-12LF 600W 12 Inch Low Frequency Driver with 3 Inch Voice Coil

Click here to download the Datasheet (PDF)
The AM-12LF is designed to be used in two way sound reinforcement systems. The 12 inch (314mm) diameter chassis is ideal when used as the bass and mid section of a two way system where a compression driver and horn combination provide the upper mid and high frequency radiation. The AM-12LF is a die cast aluminum chassis the uses a high output Ferrite based magnetic structure.

The 3 inch (76.2mm) diameter voice coil uses edge wound rectangular aluminum wire that offers very high thermal capacity and high system power handling. The AM-12LF is designed for operation between 60Hz and 2500Hz. This frequency range is well suited for modern high efficiency sound system designs. A new cone material has been developed to improve time domain response thru the critical vocal range. This new cone material increases internal mechanical damping and improves upper vocal intelligibility.

The combination of Ferrite magnetics and medium format voice coil design make the AM-12LF a very high output to value device. Because the AM-12LF is well suited for many sound reinforcement and public address applications it will find it way into many professional systems. Advanced product design, featuring computer based analysis and modeling insure that the AM-12LF is optimized for its application in two way systems.