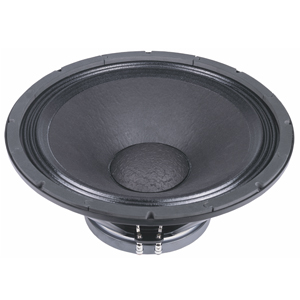 AM Series
AM-18LF
P-Audio AM-18LF 600W 18 Inch Low Frequency Driver with 3 Inch Voice Coil

Click here to download the Datasheet (PDF)
The AM Series represents a very high value for professional loudspeaker products. The AM-18LF is an 18 inch (460mm) diameter low frequency transducer that features a heavy duty die cast aluminum chassis and a high output Ferrite based permanent magnetic system. The AM-18LF has been optimized for use between 30Hz and 125Hz and is capable of very high acoustic output in this frequency band. Both the efficiency and the bandwidth have been tailored to professional sub woofer applications. The efficiency bandwidth product will produce the clean and tight bass response required for truly professional applications.

The AM-18LF features a 3 inch (76.2mm) diameter edge wound aluminum voice coil with winding parameters ideally matched to mechanical suspension system. This combination of voice coil length and suspension design will provide professional level linear excursion. The high thermal capacity adhesives and voice coil construction provide both high power handling and very high reliability.

The AM-18LF has been designed for sub bass and sub woofer applications in portable touring systems as well as mobile DJ and dance club environments. The advanced design and manufacturing processes at P Audio make the AM-18LF a very reliable and high performance device.