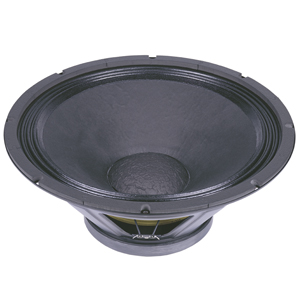 E Series
E-18ELF
P-Audio E-18ELF 800W 18 Inch Low Frequency Driver with 4 Inch Voice Coil

Click here to download the Datasheet (PDF)
The E-18ELF is an extended low frequency loudspeaker designed for ultra low frequency applications. The rated bandwidth is 30Hz to 100Hz. The E Series II E-18ELF is an 18 inch (460mm) diameter transducer that features a large format 4 inch (101.6mm) voice coil design to insure very high power handling and high reliability. The E-18ELF is similar to the E Series II E-18LF but has been optimized to additional extended low frequency response. The relationship between loudspeaker efficiency and low frequency response means that the E-18ELF has a lower 1 watt @ 1 meter sensitivity, as compared to the E-18LF, but does offer extended deep bass response.

The E-18ELF should be used whenever very low, extended bass response is required for special effects or when program material contains sufficient content in the extended sub bass range. When high impact tour quality bass is required the E-18LF should be used.

The E-18ELF features a rigid stamped steel chassis coupled to a large diameter Ferrite permanent magnetic structure. The large format voice coil features a high conductivity copper voice coil with substantial thermal capacity. Ultra high temperature adhesive systems are employed to insure maximum reliability. The E-18ELF has been optimized through the use of computer based measurement and modeling. The extended voice coil length provides increased linear excursion at high input power levels.